I suppose we should start with the penis options.
Wait! Before you rush to hit the unsubscribe button, this isn't some cheap, hacky ploy to get, well, I don't know what that would get actually.
But there is an actual setting in the just-released Cyberpunk 2077 game to, uhhh, adjust your junk, as it were. There, alongside hair style, eye color and teeth is the option to pick your… penis. And the game leaves nothing to the imagination. It's all right there.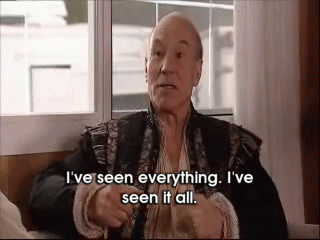 Before you ask — I don't know what the female options are, I didn't look.
I don't know if this type of, errr, unit of measure if available in other games, but now, as I keep writing, I'm realizing there's really no graceful way to get out of talking about it without sounding like either a Puritan or perv. So I'm going to pull a Monty Python and drop a cow on this segment.
But gaining that bit of adult education about Cyberpunk 2077 is important because it helps explain why my first impressions of the game at this point are pretty limited and I can't give you a more complete review. It's a reason other parents can probably relate to.
I have a curious ten year old son remotely learning and typically spending his entire day in the house. So if the setup screen goes full-frontal, what else awaits me in the game? I'm not really enthused about firing up Cyberpunk on the family TV, where anyone can walk by at anytime to find out. I'll just be on edge with one eye on the door and one finger on the shut-it-down-now button should younger eyes walk in the room. Or heck, even my wife's eyes. Any explanation I could possibly give would only make things worse.
Anyway. The point is, I'll have to point you to other reviews if you want to know if you should buy Cyberpunk 2077 and hopefully I'll have more for you next week:
IGN gives it a 9 saying "Cyberpunk 2077 throws you into a beautiful, dense cityscape and offers a staggering amount of flexibility in how you choose to take it from there."
Eurogamer warns that the game "is a mess on PS4 and Xbox One" because of poor performance, low framerates and other technical issues.
PC Gamer gives it a 3.5 out of 5, writing "The dystopian action-RPG boasts a deeply satisfying story, an engrossing world, and excellent shooting and melee combat, but it suffers from numerous bugs."
If you're still on the fence after all that, remember the game has Keanu, and he talked to NPR, of all places about acting in a videogame.
And now, for something completely different…
Clip Tease
The Game Awards were held last night. And while this awards show may not have Bruce Vilanch scripting a bunch of jokes, it did feature a number of teaser trailers for upcoming games.
Oh. And they handed awards out, too. The Last of Us II took home most of them.
But I'm more about looking ahead than dwelling in the past! Here are some of the clips that dropped last night:
Perfect Dark
Mass Effect
The Callisto Protocol
The Elder Scrolls Online
More Headlines
You don't need a PS5 or Xbox Series X right now — here's why – I mean, it's kind of freeing to know a next-gen console won't be in your particular brand of holiday basket. Just promise me you won't buy one from scalper on eBay because you could wind up getting a concrete block in place of a Playstation 5.
Master Chief is a DJ cat in Taika Waititi's Xbox short film
That's it for this week! Thanks for reading!
Stay cool. Have a great summer. Class of '90 rulez.
-Chris
Get Every Bit of 40 Bit
Processing…
Success! You're on the list.
Whoops! There was an error and we couldn't process your subscription. Please reload the page and try again.