Focus Umbral Engrams with the Prismatic Recaster to choose your rewards.
That is an actual sentence, written, presumably, by a well-paid Turbo Encabulatin' copywriter, to explain some of the new stuff in Destiny 2. It's also a metaphor for what the game has become — stuffed.
Bungie, the company behind Destiny, had a big live video event on Twitch this week to outline the future of the franchise, including the three expansions that will take the game into 2022.
That's a lot of trips to the Traveler (and flying through an empty cosmos as the game loads).
I used to love playing Destiny 2. Even the expansions. But then it all just got too… dense. The story got too convoluted, there were too many nutty pre-requisites before unlocking achievements (50 pistol kills while mid-air, mixing up an açai smoothie to get the new sub-class), too many items to gather, and way too many repeat missions (hello Osiris, my old friend, they've made me talk to you again…).
Look. I just want to run around blasting space baddies with my friends.
I'm all for a big sprawling game that gives me my money's worth, I just wish that Bungie would learn that sometimes less stuff and fewer options is more fun.
Maybe the developers should focus their Umbral Engrams on that.
The Shape of Things for Sony's PS 5
But wait, there was another big video reveal this week!
Sony held its own online video event to announce more than two dozen games coming to the forthcoming Playstation 5 and reveal what the PS 5 actually looks like.
Of the games, I'm most excited for Spider-Man: Miles Morales. The first Spider-Man game was a blast, and I can only imagine what improvements they've made with the increased power of the PS 5. Other games announced include Gran Turismo 7, Ratchet & Clank: Rift Apart, NBA 2K21, Deathloop (which looks amazing), Godfall (from the makers of Borderlands) and Stray (where you play a cat in a world full of robots?).
Point is, lots of good games to look forward to.
Sony also finally revealed what the PS 5 will look like. As you can see from the photo above, the console is two-tone. As they are wont to do, people on Twitter took a dump on the design, but whatever. It's fine. I look at my screen, not my console when playing a game.
Still no word on the price, but conventional wisdom says it'll be $500. And I say I'll be buying one.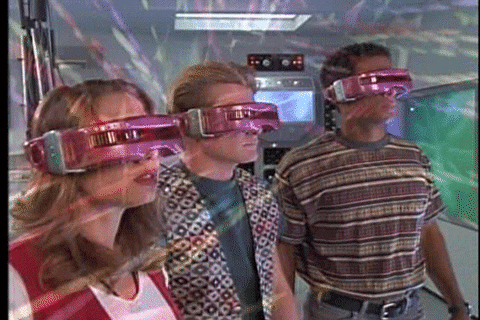 VR Super
If you've been sheltering in place for the past few months — good for you! You're doing your part. One of the hardest things about the shutdown for the fitness minded has been gyms closing down.
Gonna lose my gains, bro.
While gyms have started re-opening, you may still be reluctant to go (and who would blame you?). However! You can avoid the germ-ridden gym if you have a decent sized room in your house, and are willing to strap on a silly headset, because as new 40 Bit columnist, Mike Romo writes, VR may be your ticket to staying trim.
Check out his immersive, heart racing review of BoxVR and Supernatural.
Sidenote: If you want to contribute to 40 Bit Gaming, drop me a line. We definitely do not pay anything right now, but we're always looking for old gamers who want to gab.
Other Bits
No Man's Sky now does crossplay across all platforms
Retro Hackers are Building a Better Nintendo Gameboy
IGN's Disintegration review: "A promising concept with mediocre results."
Everything You Need to Know About Microsoft's Xbox Series X
That's it for this week!
Be good on your way to greatness.
-Team 40 Bit